Business Showings

We have sold items to customers in the later countries.

Argentina, Austria, Australia, Bahrain, Belarus, Belgium, Brazil, Canada, Czech, Denmark, Finland, France, Germany, Hong Kong, Indonesia, Italy, Japan, Kuwait, Luxembourg, Macedonia, Malaysia, Malta, Mexico, Netherlands, New Zealand, Peru, Philippines, Portugal, Qatar, Russia, Saudi Arabia, Singapore, South Korea, Spain, Sweden, Switzerland, Taiwan, Thailand, United Arab Emirates, United Kingdom, United States of America

Any questions and all mails to: jigs@amy.hi-ho.ne.jp / Also see FAQ page.
Thank you very much.
JIGS(Japan Internet Goods Shop)
Address
1-19 Gonyoshi-cho
Nakagawa-ku, Nagoya 454-0034
JAPAN

---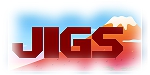 Copyright©1995-2020, JIGS - Japan Internet Goods Shop.